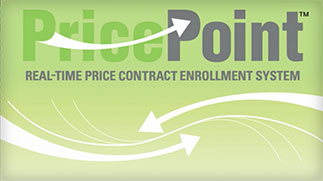 PricePoint puts you in control of your price protection agreements, while offering your customers the convenience of reviewing and enrolling directly from their computers. PricePoint saves time – no more waiting for mailed contracts to be reviewed, and customers can sign immediately. PricePoint saves money – you don't have to pay to print and mail contracts to all your customers. PricePoint saves you even more – you can easily adjust pricing to changing market conditions and you can put expiration dates on your clients' pending contracts, so you won't get caught with outdated price levels.
PricePoint – at your fingertips
Custom portal is developed for your administrators
Set contract requirements – Capped, Pre-Pay, Fixed
Set gallon requirements – minimums, maximums, percentage of previous years'
Set pricing – company wide, by town or by ZIP code

Set automatic discount triggers (quantity, etc)
Include any administrative fees

Set allowable customization ranges (by company representative)
Archive PDF versions of completed agreements
Track gallons protected

Communicate with hedge accounts

Set and review custom reports
PricePoint – at their fingertips
Customers review your price protection plans on your website, and click to enroll
System pulls delivery history and account information
Automatically sets pricing:

Contract type
Recommended gallons
Other parameters

Customer reviews and digitally signs
System directs to payment gateway if needed
Contract is completed!
PricePoint – your way
PricePoint enrollment process can be customized to your company's procedures

Limit enrollments to office hours
Require customer calls to office to activate
Lock out new customers
Require digital check boxes
Get PricePoint to work for you. Contact Us today for your free, no-obligation consultation and demonstration.